Following the recent upgrade of the Anuradhapura and Omanthai railway line, significant changes have been made to the train schedule on the Northern Railway Line. The improvements in infrastructure and tracks have allowed for smoother and faster travel, reducing travel times between two destinations.
Changes are in effect from 2023/07/15
KKS intercity express (train no 4021/4022) is not operating at the moment. (Deputy General Manager of Railways N.J. Idipolage has said KKS intercity will be operating from next month - Aug 1st from Mount Lavinia at 10 PM)
KKS - FOT train schedule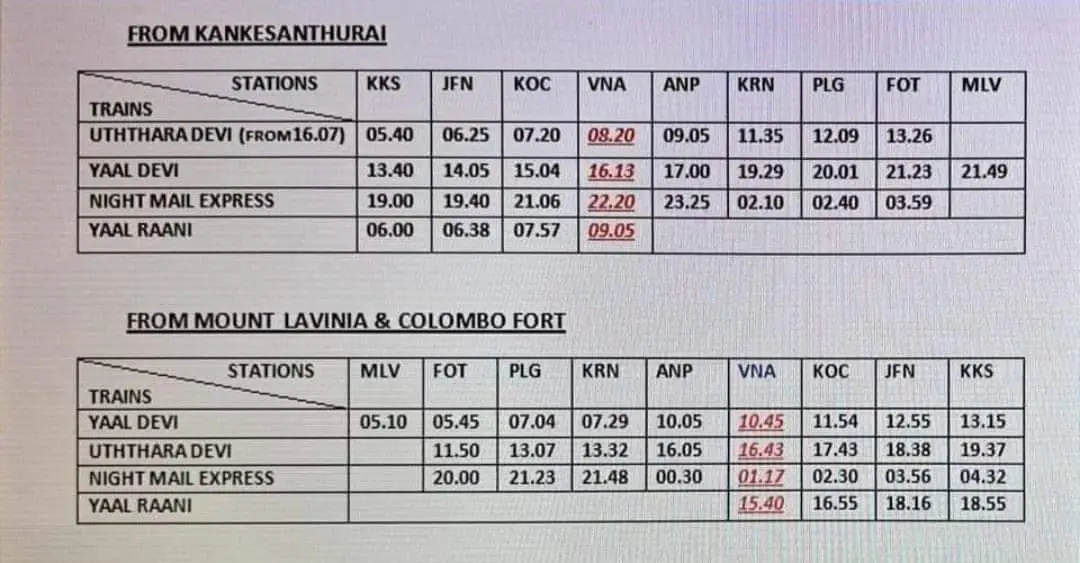 Yal Devi Train now leaves Mount Lavinia at 05:10 and returns from KKS at 13:40 - Read more
There are some changes in Uttara Devi train schedule - Read more
You can view the latest train schedule of Jaffna night mail train here - Read more
There is a new train leaving Colombo at the previous departure time of Yal Devi which runs between Colombo and Anuradhapura - Read more
There are some changes to the Yarl Rani train too.
---
---