The Colombo Light Rail (CLR) Transit Project, which will cut down the travel time between Malabe and Fort to 32 minutes, will be officially launched tomorrow (2019/07/03), the Ministry of Megapolis and Western Development (MMWD) announced today(2019/07/02).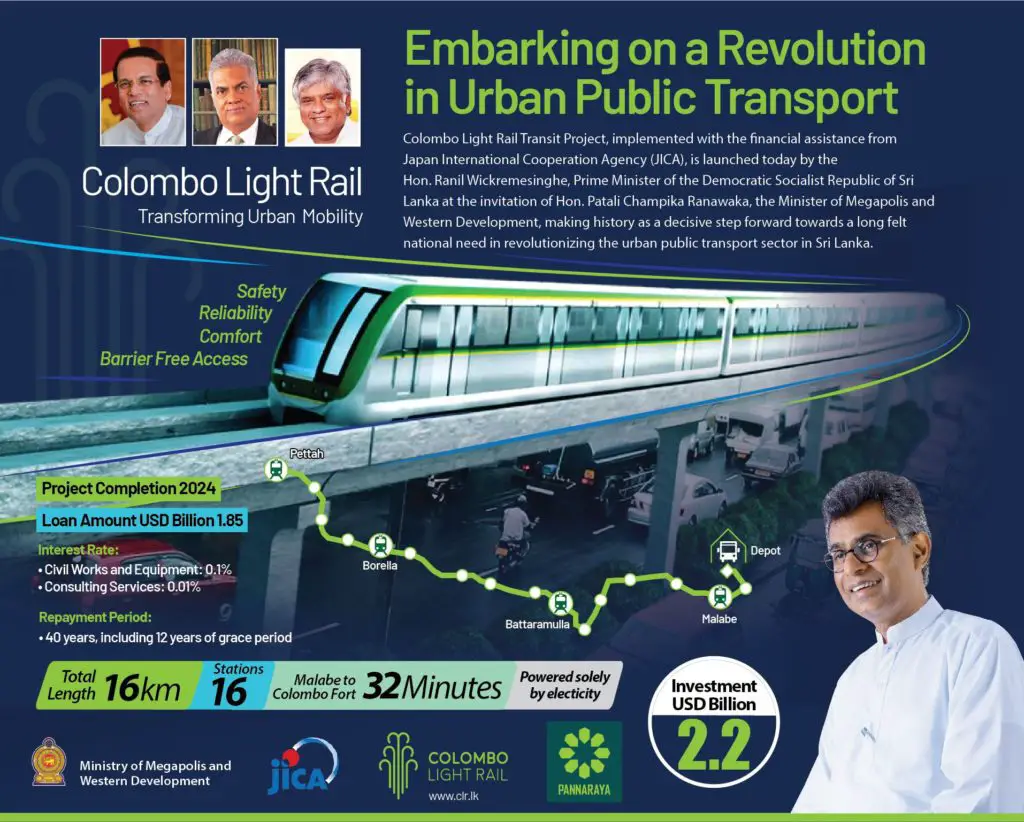 The 16 KM CLR aims to address urban transport issues in the Colombo city and will be constructed on an elevated platform made of concrete/steel pillars and beams which facilitates to run electrically operated trains.
The Project is expected to start the construction in 2020, after the completion of the detail design and tender process, and it will be completed in 2024 allowing the LRT system to be open for the public by 2025. The viaduct of the railway line is 8.4m wide and there will be an additional 2M secured area at both sides as Right of Way (ROW).  Around 25 trains will be used for this LRT system and each train is composed of four cars, with a total capacity of 800 passengers.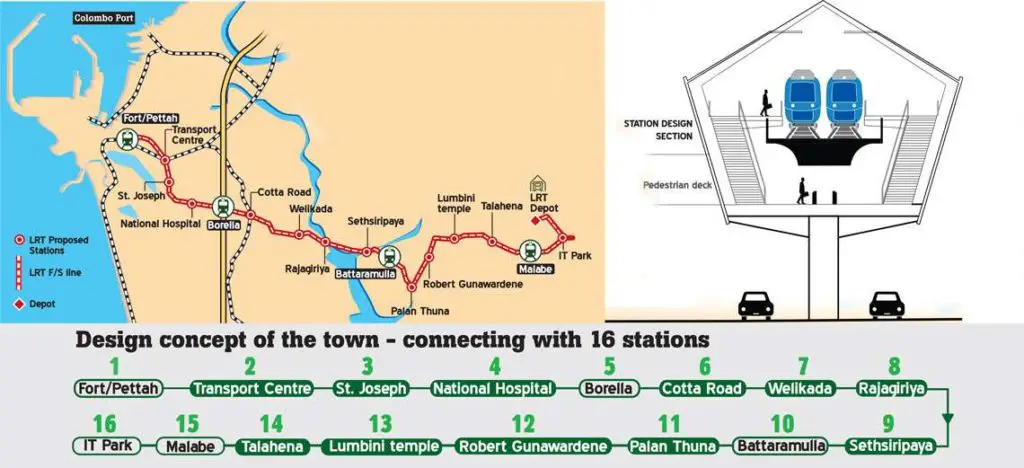 The track is constructed mainly on the centerlines of the existing roads.  On the CLR route, there are 16 train stations along the route and a depot area which will be built near Chandrika Kumaratunge Mawatha Malabe for the maintenance and storage of rolling stocks. The trainsets which have comfortable, enough space, safe, clean, secured cars (compartments) will be designed and supplied by Japanese Manufactures.
Once the system is commissioned, it will take about 32 minutes to travel from Fort Station to the last station at IT Park Malabe.  During the peak hours, trains will pass a station every three minutes. It is also expected to introduce limited-stop trains which can cover the total distance by 28 minutes at off-peak hours. The project will be designed and constructed giving due consideration to the gender mainstreaming and Barrier Free Access.
The total investment of the project is US $ 2.2 billion and US $ 1.85 out of the total will be provided by Japan International Cooperation Agency (JICA) as a soft loan. The interest rates of the loan for the civil works and procurement of equipment is 0.1% and for the Consultancy Services 0.01% per annum. The repayment period is 40 years which includes 12 years of a grace period.
This project is going to provide a safe, comfortable and reliable traveling experience for all in the city of Colombo. More importantly, the time saving and the easy, comfortable traveling experience will not only increase the productivity of the workforce but also increase the standard of life in Colombo. The reduced fuel consumption as a result of decreased vehicle usage is expected to decrease carbon emission by 53,929 tons per year making CLR an environment-friendly project. It also will reduce traffic accidents which saves not only the properties but the precious lives of the people.
Colombo Light Rail is expected to transform urban mobility in Sri Lanka to a new era, once it is completed.
Read More
---
---